How fast is the new Galaxy S III?
AnandTech did some benchmark tests, check the results!
Disclaimer:
All the content included in this article, including all the text and images, are property of AnandTech. The original article can be found
here
.
Browser & CPU Performance: Very Good
As always, we start with our Javascript performance tests that measure a combination of the hardware's performance in addition to the software on the device itself. Sunspider performance is extremely good: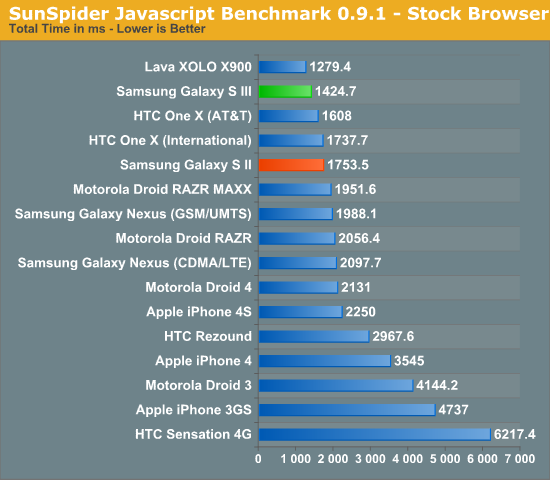 While we thought we hit a performance wall around 1800ms, the One X from HTC, the Lava XOLO and now the Samsung Galaxy S III have reset the barrier for us. In this case the performance boost is likely more due to software than hardware, but the combination of the two results in performance that's better than almost anything we've seen thus far. The obvious exception being Intel's Medfield in the X900.
BrowserMark is another solid js benchmark, but here we're really able to see just how much tuning Samsung has done in its browser: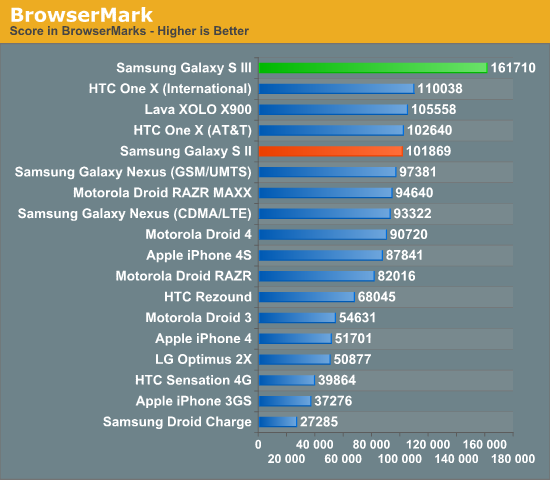 The Galaxy S III is significantly faster than anything else we've ever tested thus far. The browsing experience in general is very good on the SGS3, and the advantage here likely has more to do with Samsung's browser code and the fact that it's running Android 4.0.4 rather than any inherent SoC advantage. We know how 1.4GHz Cortex A9s should perform, and this is clearly much better than that.
Once again we turn to Qualcomm's Vellamo to get an idea for browser and UI scrolling performance:
Although (understandably) not as quick as the Snapdragon S4 based One X, the SGS3 does extremely well here - likely due in no small part to whatever browser optimizations ship in Samsung's 4.0.4 build. As Brian put it when he first got time with the device: it's butter.
GPU Performance: Insanely Fast
While we don't know the clocks of the Mali-400/MP4 GPU in the SGS3, it's obviously significantly quicker than its predecessor. Similar to what we saw when the Galaxy S II launched, Samsung once again takes the crown for fastest smartphone GPU in our performance tests.
The onscreen GLBenchmark Egypt and Pro results are understandably v-sync limited, but if you look at how much headroom is available thanks to the faster GPU it's clear that the Galaxy S III should be able to handle newer, more complex games, better than its predecessor.
What's particularly insane is that Samsung is able to deliver better performance than the iPhone 4S, the previous king-of-the-GPU-hill in these tests.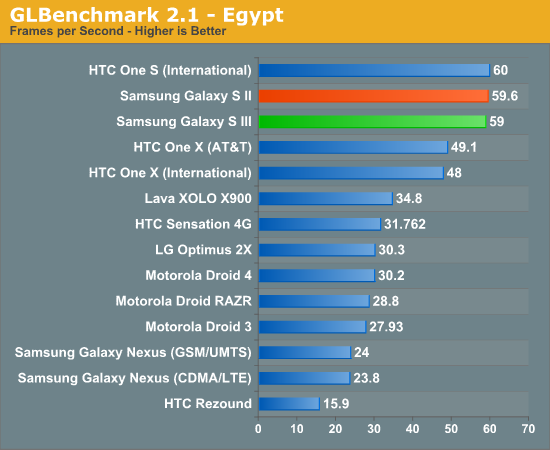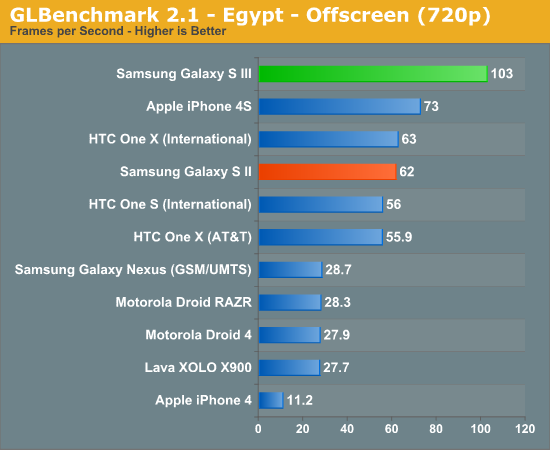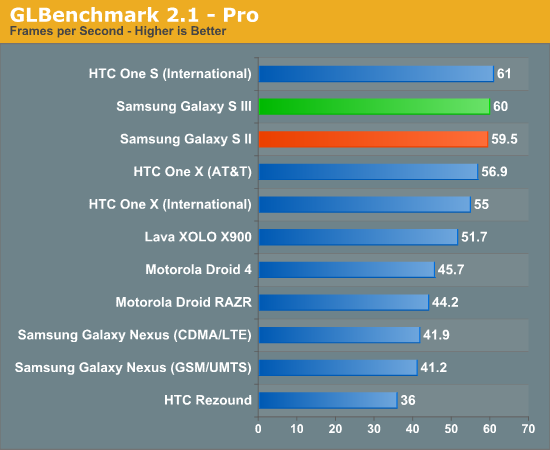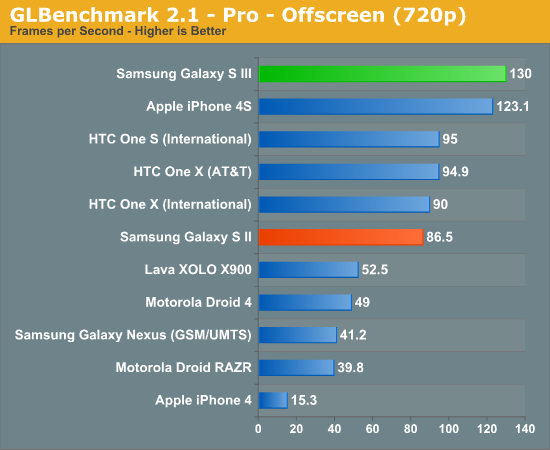 The performance advantage isn't anywhere near as staggering if we look as BaseMark ES 2.0, however as we've mentioned before this benchmark is definitely showing its age at this point. Despite the aggressive tuning Qualcomm has done for these benchmarks, Samsung is actually able to remain competitive and even pull out a slight win in the Taiji test. Both benchmarks are v-sync limited on the fastest platforms however.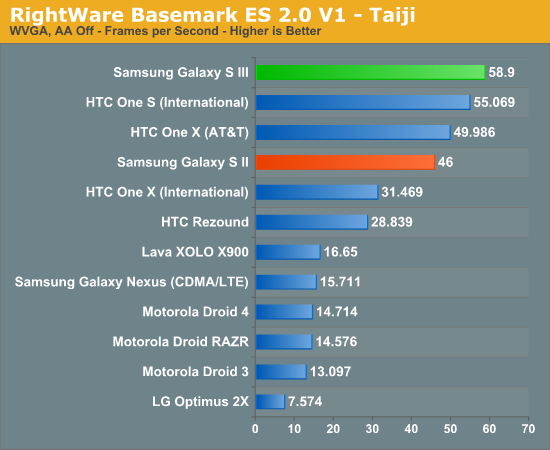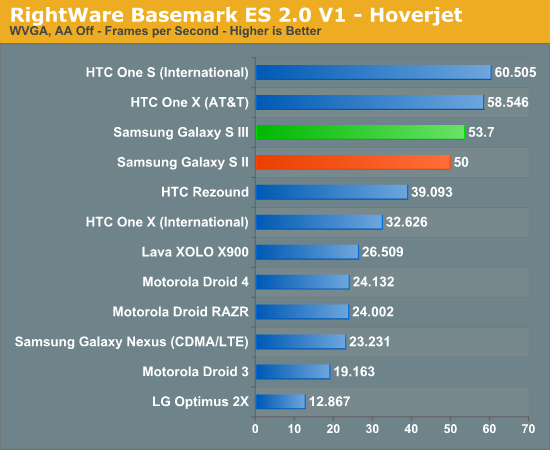 Final Words
Our first interactions with Samsung's Exynos 4 Quad are promising, but there's still much more to understand. Samsung clearly used 32nm as a means to higher GPU clock speeds, which in turn gives us much better GPU performance. The big unknown, as always, is power consumption. Based on what we've seen thus far from Samsung's 32nm LP process in Apple's iPad 2,4 (review forthcoming), Exynos 4 Quad should be a pretty good step forward in the power department as well.
As soon as we can get our hands on final hardware you can expect a full review of the Galaxy S III, including power and battery life analysis.
Initial reactions to the Galaxy S III announcement seemed almost disappointing, however stay tuned for our hands on impressions of the device as well as even more depth/detail on the hardware platform - you may be surprised.